HP Spectre x360 14, the design of the HP Spectre line is unparalleled. Just like its 13-inch predecessor, the Spectre x360 14 is crafted from CNC-machined aluminum. Similarly, you can choose from "nightfall black," "Poseidon blue," or "natural silver" just like the other models.
Before deciding on a color, it's worth examining some pictures as each option has a distinct atmosphere. The nightfall black variant possesses an elegant and sleek appearance that appears perfectly suited for a professional setting.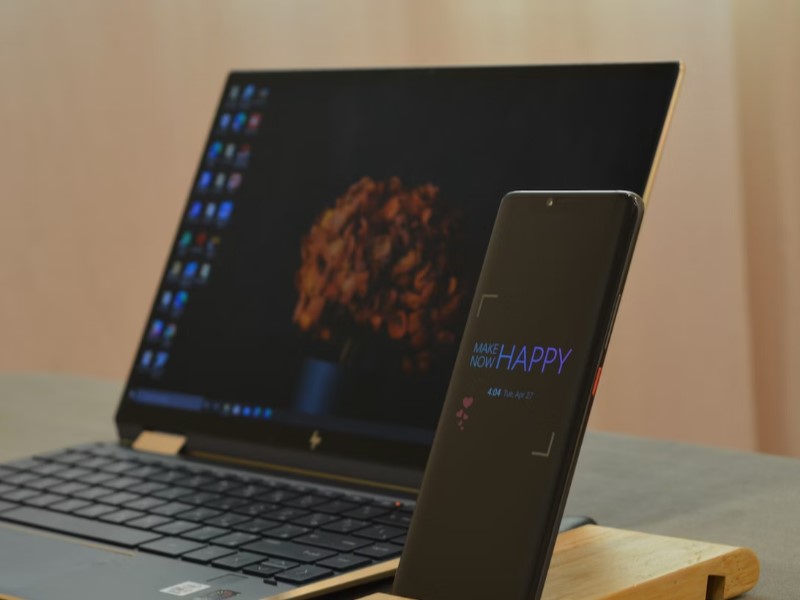 Unveiling the HP Spectre x360 14, A Versatile Powerhouse Redefining Mobile Computing
The general design of the Spectre x360 remains unaltered. The chassis, made entirely of metal with gold accents, provides a sturdy and sophisticated appearance. The display's 3:2 aspect ratio is specifically designed for business-oriented tasks rather than entertainment. As it prioritizes productivity over a wider screen for multimedia purposes.
Despite being slightly heavier than other 14-inch convertibles and having a shorter battery life compared to the previous year's model. The Spectre remains an excellent choice for executives and professionals seeking a portable and versatile two-in-one convertible device.
Performance
HP Spectre x360 incorporates the Core i7-1255U processor, 16GB of RAM, integrated Intel Iris Xe graphics, and a 1TB SSD. The Core i7-1255U belongs to Intel's 12th-generation Alder Lake U series. Which is designed for efficient mobile computing with a power rating of 15 watts and utilizes Intel's new hybrid architecture. It consists of two high-performance cores, eight energy-efficient cores, and a total of 12 processing threads.
Display
HP now offers the option to purchase the OLED display directly. The OLED panel provides exceptional contrast, showcasing deep blacks and vibrant whites. The colors are precise and lively, while the 13.5-inch panel's resolution of 3000×2000 ensures a sharp image and clear text.
The display's 3:2 aspect ratio is more vertical compare to the wider 16:10 or 16:9 widescreen formats. While movies and shows may not fit as perfectly on this screen. The boxier ratio is ideal for web browsing and working on lengthy documents.
The 3:2 display is also well-suite for tablet mode, as its squarer shape gives it a more iPad-like feel rather than using a laptop in a flipped orientation.
1080p Webcam Res
The inclusion of a 720p webcam on a high-end Spectre model is inappropriate. HP has addressed this by upgrading to a 1080p camera in this year's Spectre x360. The new camera produces a clear and well-defined image, eliminating the grainy and patchy appearance often associated with 720p cameras.
For individuals who frequently engage in Zoom meetings and other video calls as part of their work. The 1080p camera ensures a sharper and more professional appearance for colleagues and clients.
The camera also features infrared capabilities, enabling facial recognition for logging into the device. Additionally, a fingerprint reader is conveniently located between the spacebar and arrow keys at the bottom of the keyboard, providing an alternative biometric authentication method. Both of these biometric options functioned flawlessly.
We are delight by the inclusion of the OLED display in the Spectre x360, as it is a feature that once experience, one would never want to go back to a plain-Jane IPS LCD display.
The improvements in contrast and color dynamics are too significant to ignore. Moreover, considering that OLED displays are becoming more common in midrange laptops, it is only fitting for a high-end model like the Spectre x360 to have an OLED display.
Setting the OLED display aside, the HP Spectre x360 14 stands out as one of the most attractive 2-in-1 convertibles available in the market. The brownish-black chassis has a unique appeal without being overly flashy, and the all-metal construction provides a sturdy build, albeit slightly on the heavier side. With its U series processor and integrate graphics, it is better suite for general office tasks rather than demanding creative work.