The Apple Macbook Air (M2) is a stunning computer that has undergone some design changes. The iconic wedge design of the Air has been replaced. Now it maintains consistent thinness from the front to the back. Apple essentially took the design elements from the PowerBook and incorporated them into the 14 and 16-inch MacBook Pro models, such as rounded edges and a webcam notch.
However, they managed to condense these features into a case that measures a mere 11.3 millimeters in thickness and weighs 2.7 pounds. Although it is only slightly lighter than the previous Air model by a tenth of a pound, it offers better weight distribution, resulting in a more comfortable grip.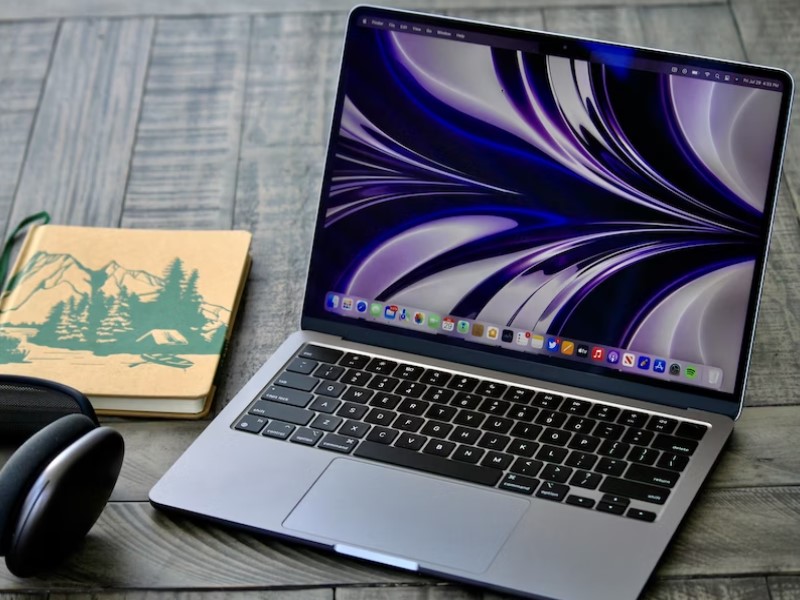 Apple MacBook Air (M2), Near-Flawless Performance
The MacBook Air M2 is a laptop that truly lives up to the Air name. While the cheaper MacBook Air M1 is still a solid option, the Air M2 takes things further by being thinner, lighter, and faster. It delivers improved performance and features a sharper webcam.
Apple has introduced the new MacBook Air M2, which starts at $1,199 (tested at $1,899), and it comes equipped with a faster M2 chip and a sleeker design. Carrying this lightweight 2.7-pound notebook and using it, I am reminded of the iconic original Air that Steve Jobs unveiled by pulling it out of a manilla envelope all those years ago.
Ultimate Specs
The Air M2 boasts impressive specifications that make it a standout choice. It features a 13.6-inch display with a resolution of 2560 x 1664, providing crisp and vibrant visuals.
The Air M2 is equipped with two Thunderbolt 4 USB-C ports, allowing for fast data transfer and versatile connectivity options. Additionally, it features MagSafe 3 charging, providing a convenient and secure way to power up the device.
The inclusion of a 3.5mm headphone jack ensures compatibility with various audio devices. For an immersive audio experience, the Apple MacBook Air (M2) incorporates a four-speaker sound system and a three-microphone array. The Magic Keyboard offers a full-height function row and includes Touch ID for secure and seamless authentication. The laptop is equipped with a 1080p webcam, enabling high-quality video calls and recordings. In terms of connectivity, the MacBook Air M2 supports 802.11ax Wi-Fi 6 and Bluetooth 5.0, ensuring fast and stable wireless connections.
Design and Dimension
With dimensions of 0.44in x 11.97in x 8.46in (11.3mm x 30.41cm x 21.5cm) and weighing just 2.7 pounds (1.24kg). The MacBook Air M2's slimness is so remarkable that it could easily be mistaken for an iPad when close. Particularly if the Apple logo is facing outward. This laptop is incredibly thin, measuring only 0.44 inches in thickness with the lid open. In comparison, even a regular Bic pen appears chunky when placed next to it.
Despite its smaller size, the Air M2 manages to offer a larger 13.6-inch display. Making it 20% smaller in terms of volume compared to the previous Air model. However, the notch at the top of the screen is a bit detracting from the overall aesthetics. The notch extends down to the bottom of the Menu bar, but fortunately, it didn't prove too distracting during everyday work.
Performance
The most impressive aspect of the MacBook Air M2 is its ability to effortlessly handle demanding workloads during Prime Day deals. Powered by the Apple M2 chip, which includes an 8-core CPU and 8-core GPU (configurable up to 10-core GPU).
This laptop delivers exceptional processing power and graphics performance. With 8GB of RAM (configurable up to 24GB) and 256GB of storage (configurable up to 2TB), users have ample space for multitasking and storing their files. The Air M2 smoothly powered through all the users' tasks without any issues.
The new Apple MacBook Air (M2) excels in nearly every aspect, offering improvements in screen quality, design, weight, speakers, webcam, keyboard, trackpad, charging convenience, and build quality. However, these achievements do come with a higher price tag. While the performance upgrades from the M1 model are not as significant as the enhancements in design and features. The M2 Air remains a superior option for most individuals when compared to the 13-inch M2 MacBook Pro model. Despite the Pro variant offering slightly better performance and longer battery life. The new Air M2 is the preferred choice for the majority of users.