Gaming laptops have become a popular choice for game lovers around the world. Acer Nitro 5 is one of the most popular laptops in this category. Then, at an affordable price, the Nitro 5 offers impressive performance and special features designed to meet the needs of gamers. So, in this article, we will provide a review of this Acer laptop, including its superior specifications and features.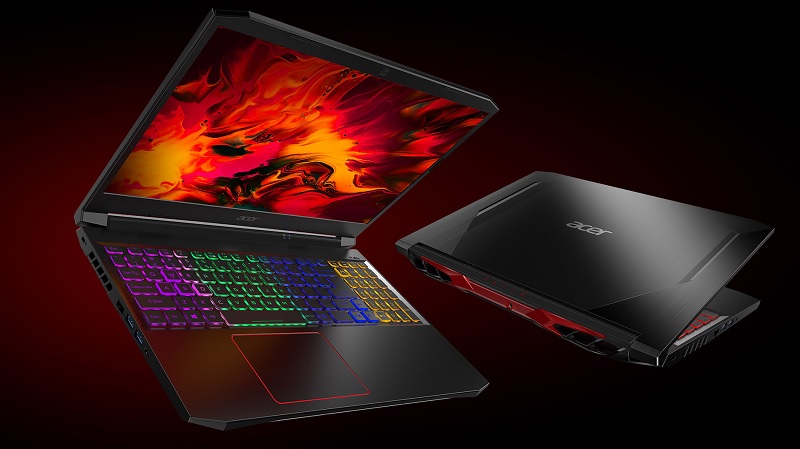 Acer Nitro 5 and Spesifications
This laptop comes with a sporty and attractive design. With a black casing with red accents in several parts, this laptop gives an elegant and aggressive impression. The build quality is also quite sturdy, made of durable quality materials.
This laptop is equipped with a 15.6-inch Full HD IPS screen that produces sharp and clear images. The advantage of the screen is the Acer ComfyView technology, which reduces light reflections and ensures a more comfortable visual experience, especially when playing games.
Under the body, Acer Nitro carries impressive performance. Powered by the latest generation Intel Core processor, supported by DDR4 RAM. Then, equipped with an NVIDIA GeForce GTX graphics card, this laptop is ready to provide a smooth and responsive gaming experience.
Users can also choose a configuration that suits their needs, from models with quad-core processors to models with hexacore processors for higher performance.
Nitro 5 is also equipped with an efficient cooler to keep the laptop's temperature low when used in long gaming sessions. This cooling system uses dual fan technology and Acer CoolBoost which can increase the fan speed by up to 10%, allowing the laptop to stay cool even when under heavy workloads.
Specification
So, here are some of the main specifications of the Acer Nitro 5:
Processor: Available in a wide selection of 10th or 11th-generation Intel Core i5 and i7 processors, providing the power and speed needed for gaming.
RAM: Available in a choice of 8GB or 16GB DDR4 RAM, which enables smooth multitasking and responsive performance.
Storage: Equipped with a choice of SSD storage with a capacity of 256GB, 512GB, or 1TB for fast data access and short game loading.
Graphics card: Using NVIDIA GeForce GTX graphics cards, ranging from models with GTX 1650 to models with GTX 1660 Ti or RTX 3060, which provide outstanding graphics performance.
Screen: 15.6-inch Full HD IPS display with 60Hz or 144Hz refresh rate for smooth and accurate viewing.
Operating System: Using the Windows 10 Home or Windows 11 operating system. Provides an intuitive interface and compatibility with various games.
Featured Features
Acer CoolBoost technology
Increases fan speed by up to 10% to keep the Acer Nitro 5 laptop cool during intensive gaming.
The dedicated application allows users to control temperature, fan speed, and system performance in real time.
The keyboard with adjustable backlighting allows users to game comfortably in low-light conditions.
Then, equipped with multiple ports, including USB 3.1, HDMI, Ethernet, and USB Type-C, for easy connectivity with other devices.
Powered by Acer TrueHarmony and Dolby Audio Premium technologies for a richer and more immersive audio experience.
Closing
Then, Acer Nitro 5 is an affordable gaming laptop that offers impressive performance and special features designed for gamers. With an attractive design, quality screen, high performance, and superior features such as Acer CoolBoost and NitroSense. This laptop is able to meet the needs of users who are looking for a gaming laptop at an affordable price.